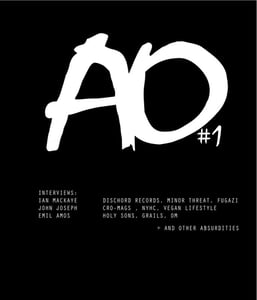 $

3.50
Interviews with:
Ian Mackaye : Minor Threat, Fugazi, Dischord Records
John Joseph : Cro Mags, NYHC, Vegan Lifestyle
Emil Amos : Grails, Holy Sons, Om
This issue is officially being reprinted for those who missed the first print! The first wave of orders will be mailed April 1st. The zine is roughly 25 pages, black and white, and filled with nice graphics and artwork.
International buyers should contact me prior to ordering to discuss shipping rates.